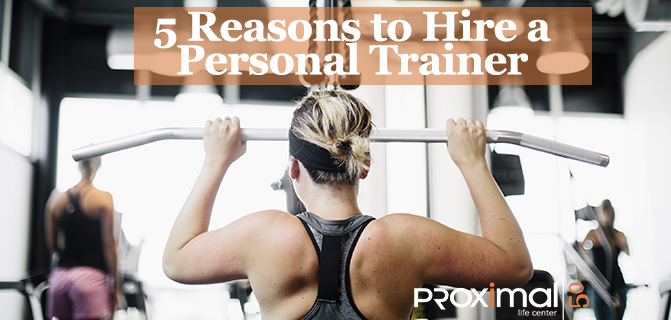 There's no need to go it alone in the gym! Here are the top 5 reasons you should hire a personal trainer:
You are feeling overwhelmed. Let's be honest, exercise can be a little intimidating – there's all the machines, everyone around you seems to know what to do, cardio first or weights first, lift heavy & low reps or light & high reps…?? A qualified personal trainer will be able to determine what's best for YOU and YOUR goals, where you need to start, and when to give you that little extra push. 

EveryBODY can benefit from personal training. Just as exercise is more than just weight loss, personal training is more than just getting your butt kicked. Working with a personal trainer will help you maximize your time in the gym. Your trainer will use a variety of methods – like heart rate monitors & progress measures – to track intensity and adjust both your workouts and your recovery.
Accountability & professionalism. Scheduling an appointment to workout with a trainer means you are less likely to skip. And you schedule appointments for all sorts of professional services – dentist, hair stylists, massage – why not have a fitness professional on your calendar too!?!
Preventing injury & maximizing performance. A good personal trainer will make sure your workouts are well-balanced and your overall training load is appropriate for you and your goals – this will prevent injury AND maximize your results.
Having a reliable resource at the gym. Whether you sign-up for just a few sessions or become a long-time regular client, once you've established a relationship with a personal trainer, we are always here to help with any questions or concerns!
We take exercise seriously. That doesn't mean we don't have fun, it means we are committed. Along with experience & specialty certifications, all our personal trainers have a minimum of a Bachelors Degree in Exercise Science (or related degree) and work together as team to meet the needs of all our clients.
Oh… and personal training may be more affordable than you think! We offer several options from individual training to team training to help make personal training more accessible to more people. Check it out: https://www.proximal50.com/fitness/personal-training/
Have questions or want more info on personal training? Schedule a complimentary personal training consult https://www.proximal50.com/schedule-your-free-assessment/
https://www.proximal50.com/wp-content/uploads/2017/11/Facebook-Personal-Training-2.jpg
320
671
Katie Kost
https://proximal50.com/wp-content/uploads/2022/08/Proximal_CMYK.png
Katie Kost
2017-11-15 18:19:42
2017-11-15 18:19:42
5 Reasons You Should Hire a Personal Trainer