Educated health professionals passionate about your fitness goals. Personalized exercise plans based on your needs and your life.
When we say educated we mean it. Our trainers hold a Bachelors or higher in Exercise Science. Plus hold specialty certifications in their areas of interest and expertise.
Along with education, our trainers also have the experience to create a sustainable workout plan that will give you the independence to take control of your health.
To learn more about personal training & to schedule a free consult, contact Jordan at jordan.morman@proximal50.com
Pricing:
15 sessions
10 sessions
5 sessions
1 session
Member / Nonmember
$484  / $550
$340 / $390
$180 / $210
$40 / $46
Partner
2 PeoplePrice per person
$405 / $466
$285 / $328
$150 / $173
$32 / $37
Small Group
3-4 People
Price per person
$300 / $345
$220 / $253
$120 / $138
$26 / $30
---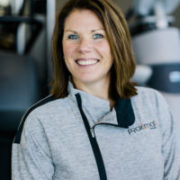 Rochelle McEvers
Active from a young age – hockey and rugby to half marathons and chasing kids – Rochelle has a passion for helping her clients feel better and perform better whether in sport, work, or living life.Rochelle is a Certified Personal Trainer through the National Strength and Conditioning Association and holds a degree in Physical Activities and Sport Studies from the University of Winnipeg. She has experience working with all populations from athletes to weight loss and injury prevention. When not training clients, you can find Rochelle playing tennis, spending time with her husband, or running her two girls to all their activities.
---
Kim Feiring
A native of Bismarck, Kim graduated from the University of Mary with a Bachelor's Degree in Exercise Science. An avid runner and sports enthusiast, Kim has always enjoyed being active. She's a former soccer player, but hockey is Kim's favorite sport to watch – go UND! She also likes to read and research new fitness methods and techniques to incorporate into both her clients' and her own workouts. As much as she loves running, Kim also likes strength training and appreciates the results she sees when she adds lifting to her workout routine.
---

Dusty Null
Dusty is from West Fargo, ND and graduated from Valley City State University in 2016 with a degree in Exercise and Sports Science and a minor in coaching.  He was a three sport athlete in high school (Football, Basketball, Track) and played collegiate football through school.
While personal training at Proximal50, Dusty is also attending UMary in their graduate clinical exercise physiology program.
As a personal trainer for 4 years, Dusty's clientele has ranged from 8-90. He's also completed multiple internship programs as a strength coach with all levels of NCAA athletics for 2 years. He enjoys training a variety of clients and his training motto is "you can't create change without motion." In addition to athletes, Dusty has also worked with multiple metabolic disorders and joint impairment injuries.
Dusty is certified through the NSCA as a personal trainer and is also certified through the Fundamental Movement Screen Level 1 (FMS)Training . In his free time you can find him hunting, fishing, following the Minnesota Vikings and NDSU Bison football teams… oh and he has a soft spot for ND high school athletic tournaments, doesn't matter the sport.
---
Lindsey Mossman
Lindsey is originally from Belleville, IL (right outside of St. Louis) – Go Cards! She graduated from the University of Sioux Falls with a Bachelor's Degree in Exercise Science and is currently in the UMary Master's Degree program for Clinical Exercise Physiology. Lindsey is also a Certified Strength and Conditioning Specialist through the National Strength & Conditioning Association.
Lindsey played softball for the University of Sioux Falls and grew up playing basketball and running track.
Personally, Lindsey is interested in athletic strength and conditioning and loves to introduce clients to a barbell if they are willing and comfortable with it! However, she enjoys training all types of clients and works hard to adapt and program workouts to what the client wants to do – exercise should be enjoyable!
Her hobbies include anything she can do with her dog, shoe collecting and restoration, and watching softball, baseball, and football mostly, but I love lacrosse as well. (Rumor has it her shoe collection is extensive and pretty rad!)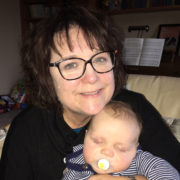 Kathy started personal training at Proximal50 with the goal to get in shape so she could keep up with grandchildren when she became a grandma. Now, not only can she keep up with 2 grand babies, Kathy's healthier lifestyle is also helping her better control her blood pressure.

Her new goal: to get off her blood pressure medication!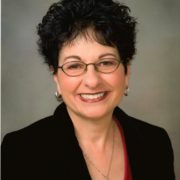 If I could tell women with osteoporosis one thing, it would be that treatment is more than just medication. Regular exercise, especially strength training, is essential to managing & living with osteoporosis. It's more than just slowing bone loss, it's having the strength to live life YOUR way.