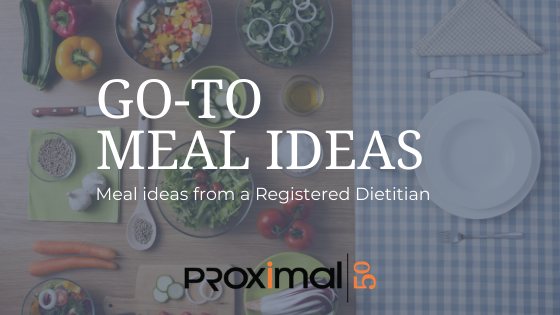 Meals Ideas from a Registered Dietitian
There are so many recipes floatin' around, and we probably even have some amazing family recipes, the problem? We either don't remember where  they are – or we aren't planning for them! Coming up with meals ideas is generally the hardest part of "meal time" battles.
We had our Registered Dietitian come up with a list of her go-to ideas. These can all be made in a "healthy" way (remember that healthy doesn't mean you eliminate food groups. Balance and variation are key!).
Right now (COVID-19 times), we want to limit the amount of times we need to head to the grocery store. Planning our meals for the week, or maybe even two, is extremely beneficial.
Download the meal ideas here. Do you have other easy or go-to meals? Let us know!
You've got the ideas. You're needing the recipes and/or guidance on getting the appropriate nutrients in everyday. Sign up for a 1:1 appointment with Vanessa, our Registered Dietitian. Virtual appointments are only $20*)
Food sensitivities are making meal times hard. Gluten, dairy, soy, or any other irritant seems to be in everything – how do you manage and find delicious recipes? Our Registered Dietitian is here to help! Set up a 1:1 virtual appointment with Vanessa for $20*!
*$20 appointments are for the duration of the Coronavirus Epidemic – check out Vanessa's session prices here.
https://www.proximal50.com/wp-content/uploads/2020/03/GO-TO-MEAL-IDEAS-2.png
315
560
Katie Kost
https://proximal50.com/wp-content/uploads/2022/08/Proximal_CMYK.png
Katie Kost
2020-03-27 14:55:10
2020-03-27 14:55:10
Meal Ideas from a Registered Dietitian