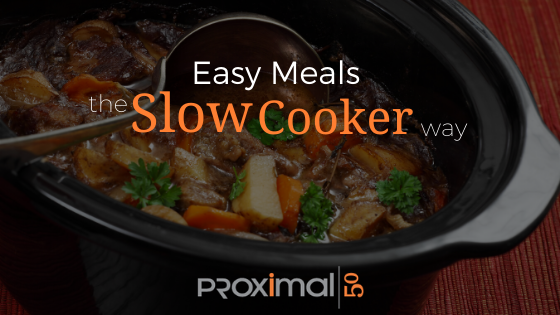 My slow cooker, Virginia:
I grew up in small town North Dakota, and some of the best memories I have are in the kitchen. There was constant chatter, fun… but my favorite? The aroma of our meal filling the house. Do you ever smell fresh baked cookies and think of your Grandmother? Or smell the spices cooking in the chili and instantly feel at peace? Food can evoke clear memories since we get to use the majority of our senses.  Which brings me to my crockpot [slow cooker], Virginia.

Every time I make a meal with her, I am flooded with great memories. One of the cooks from my hometown brought so much joy to everyone who knew her. She put all her love into every meal she made! I don't every want to forget sweet Virginia, or the laughter, joy, and happiness food brought me as a little girl. – Vanessa, Registered Dietitian
If you aren't on the slow cooker bandwagon, you're missing out. Using the slow cooker offers so many perks in EACH season – yes, even inthe summer!
Perk 1: The slow cook allows meat to tenderize. That means you can enjoy the more expensive cuts of meat with little work at home!
Perk 2: Less work for you, and easy clean up! All you have to do is prepare what you are going to throw in the slow cooker – and if you use a liner, even less to worry about later.
Perk 3: You work for 8 hours, it will work for 8 hours. Set it to start before leaving for work and come home to the delicious aroma of food that is ready for you to eat! (Bonus: You make a nutritious meal and are less likely to make food decisions while in starvation mode!)
Perk 4: In the winter you can have great soups, stews, or other comfort foods that warm you right up! In the summer, your slow cooker uses a lot less heat than your oven so you don't have to worry about making your house a sauna. Plus remember perk #1 – a nice cut of meat with the right wine/beer pairing? Sounds perfect.
Perk 5: There's tonsssss of delicious and healthy recipes. We have quite a few for you, but they are easy to find if you are in the mood for something specific. Even desserts.
Here are some basic tips and safety rules to follow when using a slow cooker:
For easy cleanup – use nonstick spray on sides before use, OR use a slow cooker liner.

Order to place your food: Place vegetables in first, then meat, and the liquid last. You want to make sure that you put food in based on how long it takes to cook. Longer = closer to bottom

Soft vegetables (tomato, mushrooms, zucchini) can be added during the last 45 minutes – "hard" veggies are the ones you want to add at the bottom of the pot to cook the longest!
Add grains (pasta, rice, etc) at the end of the process. If you add it too soon, it will likely become mushy. (Quinoa seems to be okay!) If possible, cook separately and add to dish once complete.
Add milk, cheese or cream during the last hour to prevent curdling.

You can reduce the liquid in the recipe (water, broth, sauce) by 1/3 to 1/2 since you don't have to worry about it boiling! *only when converting non-slower cooker recipes TO the slow cooker. Recipes specifically made for the slow cooker will be the correct proportions!

If possible, set your slow cooker on high for the first hour, and then turn the heat setting to low to finish cooking.

Every time you lift the lid you are adding 15-20min of cooking time. Try to keep the lid in place while cooking!

Most slow cookers have two or three settings. Mine has warm, high, and low options.
– When using the low setting, food will cook in 6 to 10 hours.
– Using the high setting allows food to cook in 4 to 6 hours.
– If you need shorter cook time and if possible, turn the slow cooker on the high setting for the first hour of cooking time and then use the setting that fits your needs. (One hour on high =  two hours on low)

One hour in the oven at 350 degrees F is equivalent to about 4 hours on high, or 8 hours on low.

You can use the slow cooker overnight instead of while you are gone or don't have enough time that day.
Keep leftovers in the fridge – and heat up on the stove for "just made" taste!
RECIPES
Sweet Chili Pineapple Chicken Easy Crockpot Recipe
Ingredients
1 12 oz bottle sweet chili sauce

1 8 oz can chunk or crushed pineapple in juice

4 -6 boneless skinless chicken breasts (frozen)
Optional:

2 cups fresh red, yellow, or orange bell peppers 

2 cups fresh pea pods 

2 cups fresh broccoli florets 

2 tbsp cornstarch
Vanessa's Tip: Use a bag of frozen stir fry mix, it's chopped up and ready to go! 
Directions:
Place frozen chicken in a slow cooker.

Pour chili sauce and pineapple with juice over chicken (if use frozen veggies add now) 

Cook on high for 4-6 hours or low for 7-9 hours.*

About 45 minutes before serving, slice chicken into ¾ inch slices and stir the chicken back into the sauce. 

*If you prefer a thicker sauce, combine 2 tbsp of cornstarch with 1/8 cup of cold water until there are no lumps and stir into sauce. It will thicken as the mixture continues to cook. 

Place your choice of vegetables on top of the chicken mixture. Continue cooking in a slow cooker on high until vegetables are tender crisp. (This is a good time to put your rice on to cook too.)

Serve over rice.
Slow Cooker Spaghetti Squash and Meatballs
Ingredients
1 medium spaghetti squash

1 1/2

cups crushed tomatoes

1/2

tsp salt

1/2

tsp garlic powder

1/4

tsp pepper

1/4

tsp dried oregano

16

meatballs 

2

tbsp butter or olive oil

Additional salt and pepper to taste
Directions:
Cut spaghetti squash in half, crosswise. Place in the bottom of a 6 quart slow cooker, cut-side down.

In a processor or blender, combine tomatoes, salt, garlic powder, pepper and oregano. Puree until smooth. Pour into the bottom of the slow cooker.

Place meatballs over tomatoes, around spaghetti squash. Cook on low for 6 to 7 hours or on high for 3 to 4 hours.

Using tongs and kitchen gloves, remove spaghetti squash from the slow cooker. Scoop out seeds and discard. Scoop out flesh into a sieve or colander and let drain a few minutes to reduce moisture. Transfer to a bowl and toss with butter or olive oil.

Divide between 4 plates and top with sauce and meatballs.
Crock Pot Boneless Pork Ribs with Cranberries and Apples
Ingredients
2 cups white onion (quartered and separated)

1.5-2.5 lbs boneless pork chops or country style ribs

1/4-1/2 cup balsamic vinegar

1/4-1/2 cup brown sugar (optional)

1/2 cup apple juice or apple cider

salt and pepper to taste

2 cups fresh or frozen cranberries

2-4 cups apple slices ½ inch thick
Directions:
Lightly oil your crock pot to make cleanup easier, or use a liner (optional). Place onions in the bottom of the crock pot. 

Layer cranberries over onions.

Layer pork over cranberries.

Combine balsamic vinegar and apple juice, pour over pork. (For a milder flavor combine the vinegar with brown sugar and apple juice then pour over pork). Salt and pepper pork lightly.

Cook for 4-6 hours on low. 

Add apples and cook until tender (about 40 minutes). Pork should have a minimum internal temperature of 145 °F

Remove pork, apples, cranberries and some onions to a serving platter. Use an immersion blender to puree sauce left in a crock pot and serve alongside the pork chops. 

Salt and pepper to taste and serve with rice, mashed potatoes or sweet potatoes.
https://www.proximal50.com/wp-content/uploads/2020/04/Slow-Cooker-Tips-Recipes.png
315
560
Katie Kost
https://proximal50.com/wp-content/uploads/2022/08/Proximal_CMYK.png
Katie Kost
2020-04-09 20:04:31
2020-04-09 20:04:31
Easy Meals: the Slow Cooker way (+ recipes!)