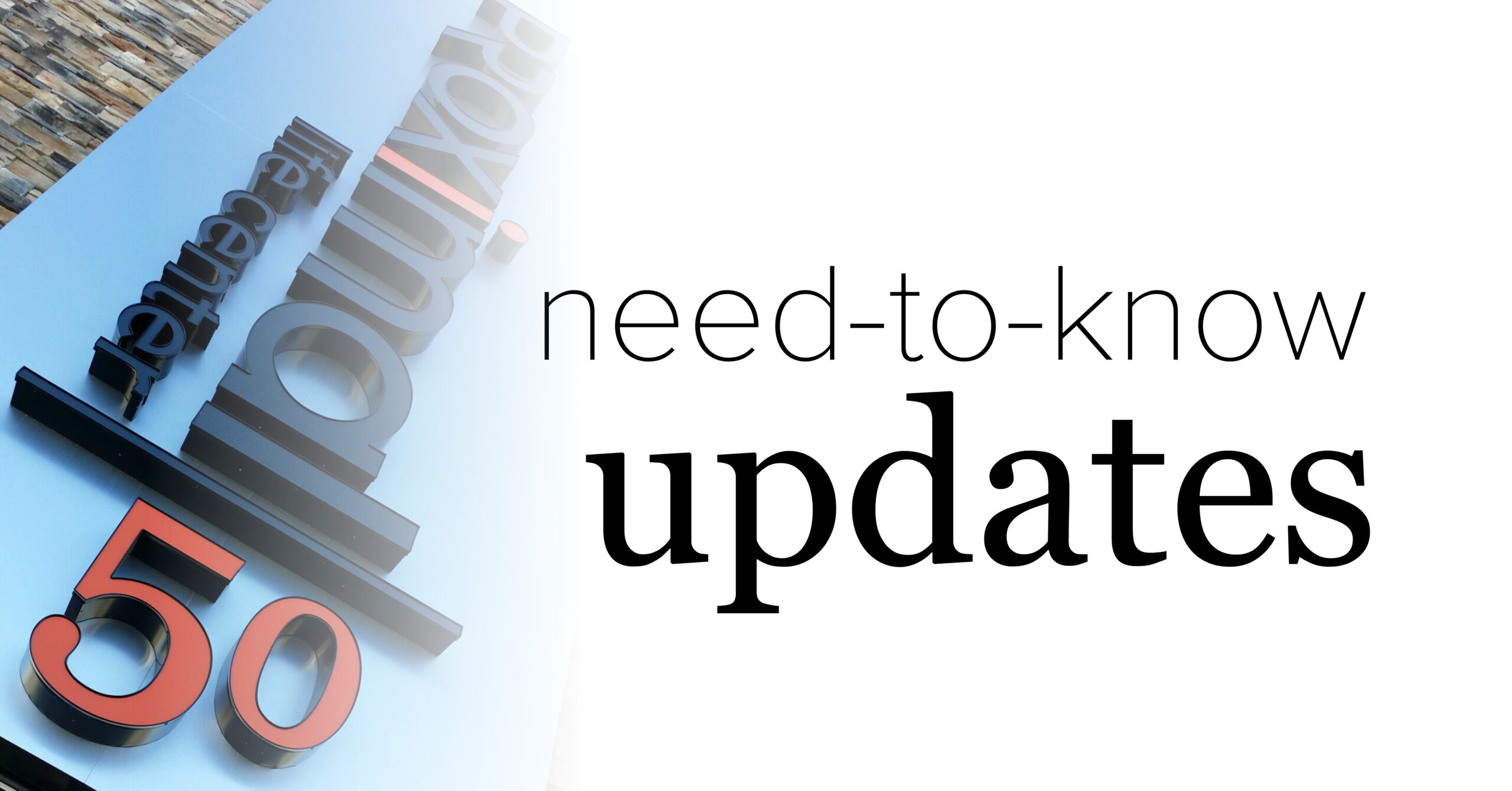 Current COVID-19 Policies
Updated as of 11/15/2020 6:00pm
On Friday, 11/13/2020 Governor Burgum issued Executive Order #2020-43 referencing North Dakota Department of Health Order #2020-08. One of the main points in these orders was a state wide mask mandate. After closely reviewing both orders, the mask guidelines Proximal50 implemented on November 1st comply with the requirements listed. At this time, no changes will be made to what has been in place since November 1. Details can be found below.
———-
As an ever-evolving situation, we are doing our best to adapt when needed while still providing a clean, safe place for our members, clients, and community to prioritize their health & wellness. Here are just a couple of points to share:
Proximal50's Mask Guidelines
As healthcare professionals we recognize the importance of mask wearing in reducing the spread of all viruses, especially SARS-CoV-2, the virus that causes COVID-19. Specifically in close contact settings such as a Physical Therapy appointment or a closed-door office visit. 
Further, as a local small-business we respect the decisions of our elected officials. We understand and empathize with the difficult decisions facing not only local and state officials, but also business leaders. 
It is also important to note that we do not recommend wearing face masks while exercising or repeatedly removing and putting on a mask. 
Thus, taking into consideration the above, we will be implementing the following guidelines, effective November 1st.
All Wellness Clinic clients – including Physical Therapy patients – are required to wear a mask at all times.

Disposable masks are available. 

Gym users must wear a mask when arriving & leaving the facility.

We recommend masks be kept in your locker or coat pocket while exercising to limit contamination.

Group fitness participants must also wear a mask entering & leaving the studio as well as setting up and taking down equipment. We recommend you leave your mask in a clean plastic bag next to your water bottle during class.

Pulse participants must also wear a mask when entering & exiting The Warehouse. We recommend you leave your mask in a clean plastic bag next to your water bottle during the workout. 

We do not recommend wearing a mask while exercising nor do we recommend repeated on/off with masks. 

Every effort should be made to keep at least 6 feet between exercisers.
COVID-19 Precautions & Protocols
We continue our commitment to regular disinfecting, cleaning, and physical distancing policies & procedures which include:

Daily disinfecting of equipment
Spaced equipment & reduced class sizes
Commitment from members to stay home if sick, be respectful of space, regular handwashing & sanitizing, and personal responsibility in cleaning equipment after use.

We are constantly evolving our programs & services to provide options virtually. Including:

Livestreaming group fitness classes
Regular workouts in our Proximal50 @ Home Facebook group
Virtual personal training & wellness appointments
Accountability groups & appointment options
Membership Freezes & Cancellations
Please email

info@proximal50.com

or stop in to fill out a form in person. We DO NOT accept cancellations or freezes over the phone.

This will take effect the 1st of the month following their request as long as it is by the last Friday of the month. 

There will be no mid month refunds
https://www.proximal50.com/wp-content/uploads/2020/09/Updates-scaled.jpg
1340
2560
Katie Kost
https://proximal50.com/wp-content/uploads/2022/08/Proximal_CMYK.png
Katie Kost
2020-10-22 16:38:49
2020-11-16 00:16:30
Current COVID-19 Policies