Sure, you could go to a big box store or shop online, but you could end up with inferior equipment. You might save some money… you might not. We make it a priority to get to know you and to work with you so your investment doesn't become an expensive coat rack!
We have experience with all sizes and shapes –  from P50's two gyms to our own at home workout corners. You might just be surprised how little square feet (and equipment) it takes to create a dedicated space to get exercising, to get healthy!
Plus, our go-to equipment gal is a Physical Therapist & Personal Trainer – she knows exercise! Email us at info@proximal50.com to setup a time to chat or to stop by for a test drive.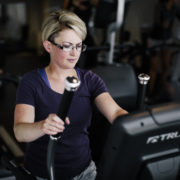 Large Equipment
If you are looker for machines – cardio or strength – we've got you there too. We will help invest in the piece or pieces that help you
maximize your budget while giving you variety and a well-rounded workout setup.