With a focus on improving the quality of the food your eat, not restricting what you eat, Vanessa, P50's Registered Dietitian is committed to helping people live an enjoyable life through good nutrition.
The last thing you need is one-size-fits-all diet advice. Instead you need someone to work side-by-side with you to develop a personalized nutrition treatment plan. Taking into account your health history, favorite foods, eating and exercise habits, and desired state of wellness, you'll work together to set goals and prioritize your nutrition.
With personally-tailored nutrition support you can:
Manage chronic disease. High cholesterol, high blood pressure, diabetes, or cancer can make it hard to know what to eat.
Navigate food allergies, sensitivities, and intolerances. From celiac disease to lactose intolerance, it's easy to be overwhelmed by what you can and cannot eat. Keep your diet well balanced to avoid nutrient deficiencies.
Develop a weight loss program that works. Fad diets may sound like a quick ticket to weight loss, but they rarely work forever. Learn how to develop a safe, effective weight loss plan using real food so you can stick with it for the long haul.
Services include:
General nutrition advising
Weight management
Chronic disease support – diabetes, cardiovascular disease, hypertension, hyperlipidemia
Maternal and prenatal nutrition
Digestive disorders
Home counseling and kitchen makeovers
Supermarket tours
Family counseling
Pricing
Nutrition plans are customized for each client. Package sessions can be used for nutrition and other Proximal50 services such as personal training or counseling services.
| | 15 sessions | 10 sessions | 5 sessions | 1 session |
| --- | --- | --- | --- | --- |
| Member | $484 | $340 | $180 | $40 |
| Nonmember | $550 | $390 | $210 | $46 |
| | | | | |
| | | | | |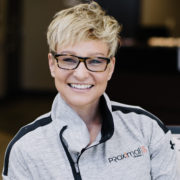 Vanessa Lennick, RDN, LRD
Registered Dietitian Nutritionist
Nutrition Coordinator
Vanessa is a Registered and Licensed Dietitian with a Bachelor's of Science in Dietetics from North Dakota State University. She is a member of the Academy of Nutrition and Dietetics. Vanessa worked as a clinical dietitian for 6 years, helping people with a variety of illnesses and dietary needs. She has been a member of the North Dakota Army National Guard for the past 17 years, and has served in two overseas tours. (Thank you Vanessa!)
Vanessa welcomes and enjoys working with all demographics and will meet you where you are on your wellness journey. She strives to educate, empower and encourage clients to make sustainable lifestyle changes, rather than dieting and employing short-term measures.
As a wife of a shift worker and mother of three children who provide her with nutritional challenges of their own (yes even her kids can be picky eaters!) – Vanessa understands the challenges everyone faces and this inspires her even more to make nutrition an important part of daily living!