Massage therapy is manual manipulation of soft body tissues – muscle, connective tissue, tendons and ligaments – to enhance a person's health and well-being.
Choose between a Swedish, Deep Tissue, or Therapeutic massage; or blend the modalities to meet your specific needs. Pressure is varied throughout the session based on client's comfort level, the integrity of the tissue, and how the tissue responds. A customized massage can offer stress reduction, improvement of posture, relief from chronic pain, better quality of sleep, and improved energy.
30 minutes | $35
60 minutes | $60
90 minutes | $90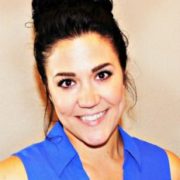 Sara Lindsley
Licensed Massage Therapist
Om Therapeutics Massage & Bodywork
Sara (Rowe) Lindsley graduated from the prestigious Boulder College of Massage Therapy located in Boulder, Colorado. She received the 1100+ hour certification in 2004 and then earned additional education with BCMT's Associate of Occupational Studies in Massage Therapy Degree in 2005.
Sara and her husband along with her 2 children, a giant puppy & a geriatric dog reside in a beautiful, rural home. Sara enjoys yoga, ballroom dancing, playing several musical instruments, reading/writing, kayaking, running, and clean-eating cooking.