Tana Trotter, PT, DPT
Tana grew up in Killdeer where she fell in love with exercise through sports and entrepreneurship through watching her dad grow his own business. She took these two passions with her to Bismarck where she attended the University of Mary. After receiving a Bachelor's  in Exercise Science, Tana completed her doctorate in Physical Therapy. While in school, Tana worked as a personal trainer and group fitness instructor in the community. As she completed her clinicals for physical therapy, Tana saw the potential to combine physical therapy and fitness to use exercise as medicine – add in her love for entrepreneurship and you have the start to Proximal50!  
---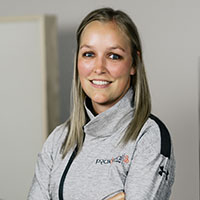 Claycee Steffan, PT, DPT
Claycee is a graduate of the University of Mary with a Doctorate of Physical Therapy and holds certifications in the Functional Movement Scale (FMS) and Y Balance Test. Claycee's patient experience ranges from orthopedics to athletes.  She is an active member in the North Dakota Physical Therapy Association. Claycee believes in a hands on approach and  that working closely as team is the key to successful rehabilitation.