Clinical Exercise Physiologist.
A Clinical Exercise Physiologist (CEP) can work with all populations but especially those with chronic diseases.  As a certified health professional, CEP's design, implement and supervise exercise programming for those with chronic diseases, conditions, or other physical limitations.
When working with a CEP the goal is to use exercise as medicine to maintain or slow the development of a disease, condition or physical limitation.
Consider working with a Clinical Exercise Physiologist if you:
have experienced a heart attack or heart related event
(open heart surgery, stent, pacemaker, chest pain, congestive heart failure)
are overweight
are diabetic
are on daily medications
have hypertension
have high cholesterol
have osteopenia or osteoporosis
are undergoing cancer treatment or are a cancer survivor
have arthritis
One-on-one supervised exercise sessions or program design for independent exercise are both available. For more information or to schedule a complimentary consultation please contact:
Lex Scott, CEP
751-2974
lex.scott@proximal50.com
---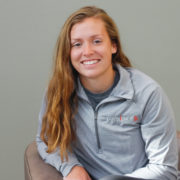 Lex Scott, Clinical Exercise Physiologist

Lex is from Glendive, MT but currently claims Bismarck as home after graduating with a Masters in Clinical Exercise Physiology from the University of Mary. An avid sports fan, Lex played softball at UMary and can still be found watching the Women's College World Series for Softball or Stanford Women's Basketball. In addition to a Masters in Clinical Exercise Physiology , Lex also has a Bachelors of Science in Exercise Science and is an ACSM Certified Exercise Physiologist.